Fred and Natasha Ruckel are the founders of SnugglyCat Inc. Although they both love their cats Yoda, and Spock, they never thought that would end-up creating a business that makes cat-friendly products!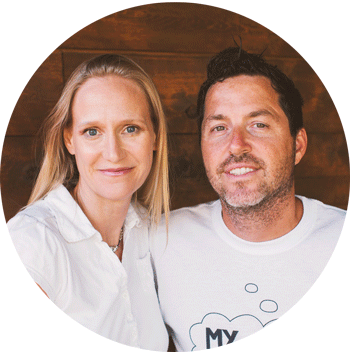 Fred grew up working in the family business as a plumber. He shifted his career in 1993, where he accepted an internship at a television production company in New York City. Fred worked his way up the ranks to become a visual effects artist and Creative Director, eventually opening his own company during 1999.
Fred has been featured in trade magazines over 200 times in his career. He is also a speaker at technology conferences and regularly consults for investment firms about visual effects technology.
Natasha's career started at a digital television graphics computer manufacturer based in the UK. Her first role was as a Graphic Designer, but she soon progressed to Product Demonstrator then Product Manager. While there, she spent time at the BBC News & Current Affairs Department, as well as several other large broadcasters around the world. Close involvement with global markets, TV graphics, innovation and product research led Natasha to undertake post-graduate studies in marketing. After working for several different corporations within technology and life sciences (in Oxford, UK), Natasha relocated to Montreal. While working in Canada, within the Media & Entertainment industry, Natasha met Fred.
Eighteen months later, Natasha moved to NYC. Following a stint as Social Media Director for a billion dollar global consulting company, Natasha then became Creative Content Director at digital agency.
During 2011 Fred and Natasha produced a TV show for the DIY Network called 'Dream House Log Cabin', it was about building their own home from scratch. The show is still airing and can be watched online on the DIY network website.
As 2011 came to a close, Fred launched a new company called RuckSackNY, a digital full-service marketing and advertising agency. As RuckSackNY grew, Natasha joined forces with Fred; this husband and wife duo have been working side by side ever since. Together they write, produce, direct and create campaigns that help both small and large companies.
Technology, inventions, green-building and health-conscious living are important to both Fred and Natasha. These criteria make the foundation of SnugglyCat's safety and quality standards when manufacturing products for our furry friends.
In the early days Fred and Natasha shipped Ripple Rugs directly out of their garage. These days Ripple Rugs are shipping directly from their contract manufacturer's location. Like many other small business starting out, they look forward to the time when they'll be able to move into their own state-of-the-art facility.
We want to ensure that quality of our products and the conditions of the factory workers meet our high-standards and criteria. For that reason, we are proud to say that The Ripple Rug is "Made In the USA". The Ripple Rug is great for your cat, great for the environment and best of all creates jobs for many American families.
Snuggly Cat's mission is to make the world a happier and healthier environment for all domesticated furry feline friends.
All of our products are designed to enhance the natural mental and physical well-being of your cat.
We always try to source the most environmentally-friendly materials and manufacturing processes when creating our products.
Naturally, we take great care in ensuring that any employees working directly with us, (or as a third party for Snuggly Cat Inc.) not only work in safe and healthy surroundings, but that they are also remunerated fairly for their time and efforts.
Snuggly Cat is our inspiration. She is a tortoiseshell/tabby named Yoda.
Yoda rigorously plays, claws, bites, chews and sleeps on all of our products during the development phase.
She also poses well for camera and even writes for her blog. Yoda reluctantly shares her household with Spock, (he adores her, but we think she thinks he's OK, not quite purrrfect for her).
[Note: no animals are harmed during filming or product evaluation].

~ We work with ten different companies based in the USA, (located in four states).
~ In total, 122 US workers are involved in the production of Ripple Rugs.
~ Each Ripple Rug is made using 24 PET post-consumer recycled bottles.
~ 80% of the recycled bottles used to make Ripple Rugs are sourced in Albany, NY.
~ To date, we have recycled over 3,000,000 plastic bottles to make Ripple Rugs.
We are grateful to those people (and their furry friends), who believed in us, encouraged us and pledged their support. Without you, it would have been a very difficult road to follow. From the bottom of our hearts – we thank you.
CLICK HERE TO VIEW MORE