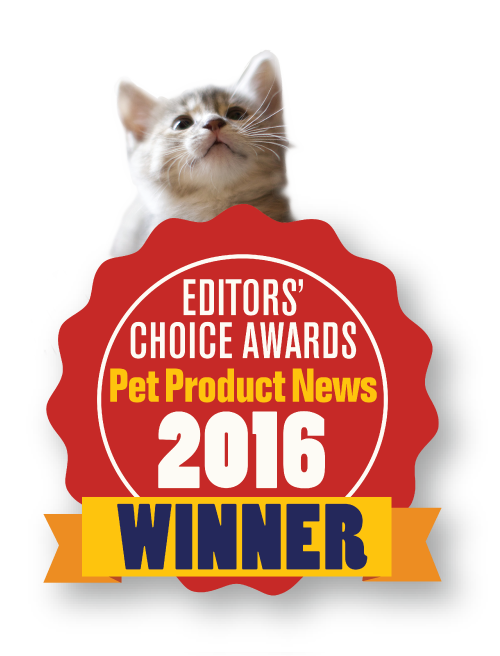 THE RIPPLE RUG HAS BEEN SELECTED BY PET PRODUCT NEWS AS A WINNING PET ENRICHMENT SYSTEM. PAWS-UP!
PETS JUST CAN'T RESIST PLAYING WITH THEIR RIPPLE RUG.
The Ripple Rug is a new Pet Enrichment Toy that helps keep your furry friends happy and healthy.
The Ripple Rug is designed to meet a range of natural pet behaviors, while helping save your furniture.
Make a new play-space, a bed, a scratching spot or even a safe place for your fur baby to hide.
Resting & Recuperation:
Defensible hidey-hole = safe place to nap, sleep and recover
The Ripple Rug helps any cat feel safe. Cats enjoy the privacy and seclusion offered by the sanctuary of the Ripple Rug. Your cat can sleep inside or even flop down onto the carpet, making a 'nest' to cradle themselves.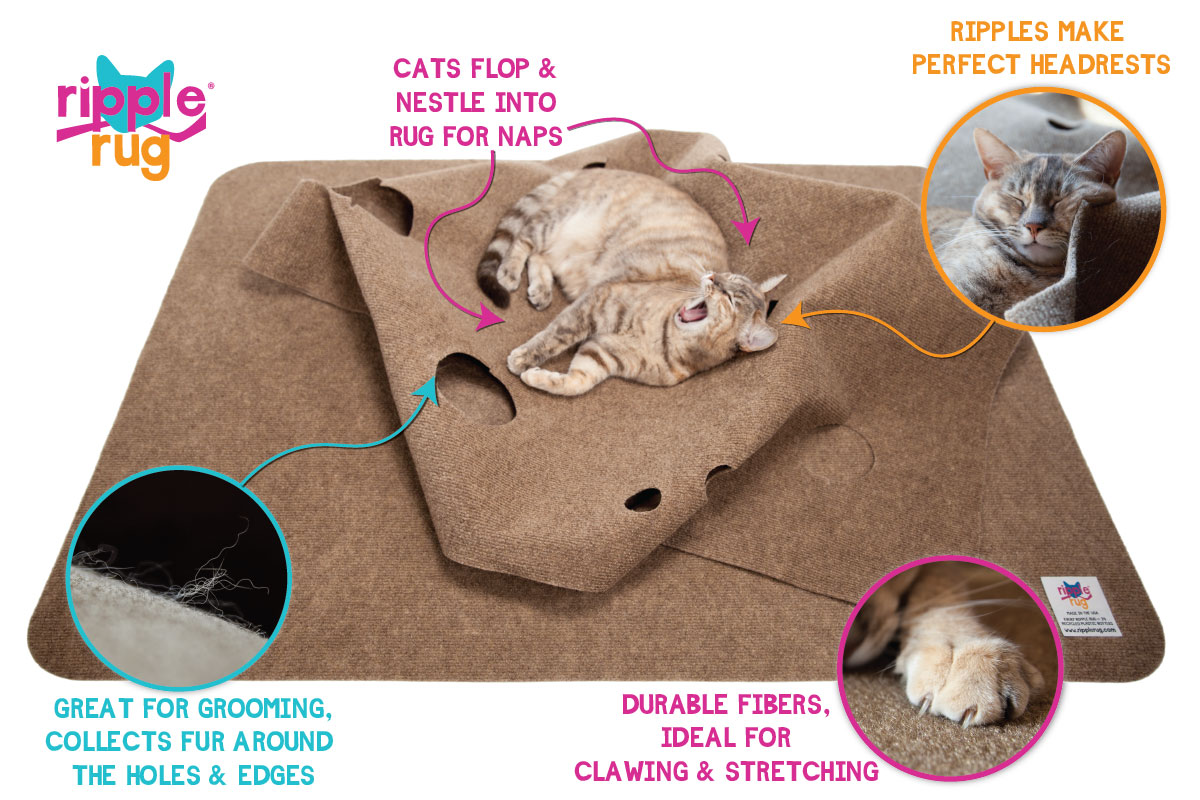 My twins Peanut and Skippy absolutely LOVE this rug. Usually they get bored with some of their interactive toys, but not so with the ripple rug. I can form new tunnels and caves, so it is always changing. I throw toys in the holes, they bat at each other from both sides, and even sleep inside. The quaility of the product is excellent. I was going to put it away for awhile, but they are too attached! I love cat toys that encourage creative play and foster intellectual stimulation and the ripple rug is just that!
Leonard the Cat received this today as an early Christmas present. It's fun to make the play area for him and even more fun to watch him explore inside, and poke his head and paws out of the holes. We played for a long time and now he is sleeping on it. I anticipate a lot of replay value for this item. What a great idea!
My 4-year-old cat loves her mat! She was hesitant at first, but then I started poking toys through the holes and now she's sold. She herds me to it for playtime. She scratches on the mat, runs around on it and has fallen asleep on it when she is worn out from playing. We have one of those tunnels and I placed it so that when she runs through the tunnel she ends up under the top mat and then the fun begins. And, I like the fact that it is made from recycled material. The price may seem high but it's worth it to see my cat happy. Remember, a tired cat is a happy cat!
We just got it today, and it only takes a couple minutes to set up. Then our three cats went crazy over it!!!!! It is well worth the money for the fun ofwatching them play with it.
My two cats love this! They like to paw at each other through the holes, play with toys in it while they're covered by the top piece, and they love to simply just lay on it, too. They like the material of The Ripple Rug, scratching at it, also. Definitely a hit for the both of them. I was skeptical to buy it at first, wondering if it would actually be functional, but if you're in doubt, I assure you it is worth the purchase. I don't usually go all out with reviews, but this is definitely a cool thing for the cats.
Great purchase, I bought it for my two Bengal kittens, they LOVE it! They play with it and sleep on it, it was a great hit in our house.
The absolutely best toy I have ever purchased for my cats. The reason I (and my cats) love it is due to stability (velcro strips on top layer) so it holds it's shape, the ability to change it, put toys inside to draw interest, and many holes for them to stick their heads and bodies in. Since cats get bored with toys that they have had a long time this helps to prevent it due to you can change the upper layer to different positions. And none of my cats, various sizes, have had any problems "getting stuck" in holes. And my cats range from 6 to 16 pounds. I have recommended this to many friends and none of them have been disappointed. Very, very happy with purchase!
This cat toy is genius. We purchased this for my mother-in-law who has 7 cats. We wanted to get something for them that they could all enjoy. She says that all of them are jumping, hiding and sleeping in the little tunnels. The backing is very slip proof. This is a winner according to her cats!!!!
I've never written a review before, but I feel the need to write one on the ripple rug because is so great! We have two kittens and they Iove this thing! They literally play with it daily for hours. I love setting it up before I leave for work. I put a ton of toys inside the holes and when I get home the toys are all over the house. Great product.